DIGS, Inc. began as a journey by several parents, grandparents and special educators who were concerned about the lack of services for adults with developmental disabilities in the Rome/Floyd County area, Georgia. Special educators were instructed to have transition plans for students before graduating from high school and found little or nothing for students who were not 'job ready'. Parents and grandparents did not understand how or where to apply for services such as supported employment, respite care or housing beyond living at home. The majority of students were leaving school to go home with no place to go and nothing to do.
This group began to meet regularly and had guest speakers from different public and private agencies come to describe their areas of service provision. The group became increasingly aware that there was no funding, there were funding freezes and waiting lists, there were no service providers available or their children were not eligible due to strict or changing interpretations of the law. Frustration and hopelessness grew with the 'you can't because….' information that was learned. Finding private services and housing was found to be unaffordable for most and not available without traveling far.
The group decided if anything was going to change, they would have to be instrumental in making the change. Developing Independence, Growth, and Security (DIGS, Inc.) was formed and adopted … to provide safe housing, work and leisure opportunities for adults with developmental challenges as its mission. In July 2006, DIGS was incorporated as a nonprofit corporation and applied for and received 501C3 status with the IRS in July 2007. Below you will see the founding members of DIGS who remain determined to make a difference for all our "children" with developmental disabilities.
Setting up the DIGS, Inc. non-profit corporation was found to be the easiest step in our primary mission to provide housing. As we met and discussed our plan with others knowledgeable about construction costs, we developed a goal of $250,000 for our first personal care home. This was a very conservative goal with the hopes of receiving community support in the form of donations of goods and services. Although we are a very focused and determined group, none of us had much experience with fundraising and other roadblocks soon became evident. As a newly formed nonprofit, the community had no knowledge of us and our mission. We had no 'track record' of any accomplishments or evidence we could or would stay in existence. The most surprising obstacle was the degree of discrimination and fear which still exists towards adults with developmental disabilities living in personal care homes in the community. We all recognized it was going to take us a long time to build our first home.
After, several meetings and brainstorming sessions, we realized we could move forward much more quickly with other parts of our mission statement. We had so many good ideas for leisure opportunities based on our adult children's special interests and abilities. The city/county recreation authority agreed to co-sponsor and help with places to meet. A special education teacher with a background in music agreed to be our choir director and the 'Just As I Am' choir was established in November 2007. Armed with a Christmas music cd and a t-shirt for each participant, the first performance took place in the food court of our local mall. What magical joy each participant and parent/caregiver experienced that night! It didn't matter that some had difficulty speaking and only some could sing. Everyone was a performer. A large audience of friends and shoppers gathered and shared this special moment. What a wonderful gift to all!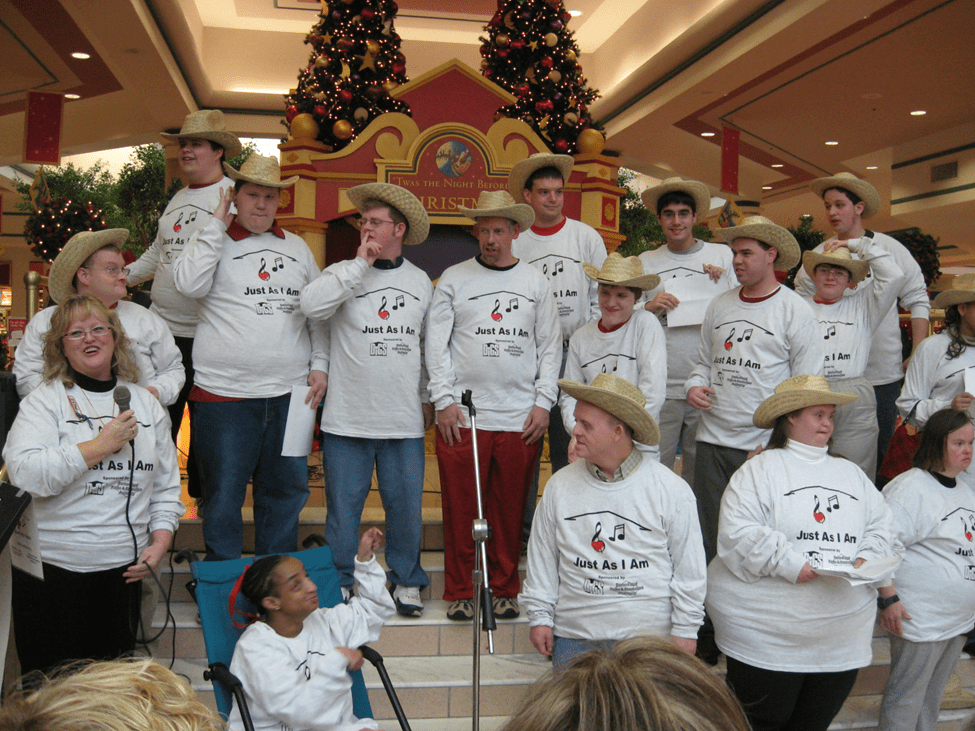 The choir has helped to further the mission of DIGS in many more ways than expected. They perform regularly and receive donations. Word has spread through the community about the choir and what DIGS is all about. But most importantly they have helped to form a cohesive group that has become a 'family'. Many parents/caregivers did not know each other and now are a support group to 'go-to' with questions about the system, concerns about handling difficult situations, carpooling to performances and more. We all share the joys of watching our 'children' grow in their performing abilities, increased self-esteem, confidence, and friendships. We have also discovered that although each individual's story of disability is different, we all share the common bonds of frustration (sometimes), guilt (sometimes), grief (sometimes) and unconditional love (always).
We knew we were now on the right path and the Snap Happy Camera Club was formed in the spring of 2008. We planned for about ten to join but, nineteen attended the first meeting. It appeared our 'adults' were so hungry for activities to do where they felt accepted, they would attend anything…..even if it was something they had no interest in. The attendance has now dropped to about fourteen regular members. Using 'point and shoot' digital cameras, they enjoy going to different places of interest in the community to take pictures once a month. Curious onlookers will ask who we are. They are impressed by the devotion of the photographers and the joy they show when they find a 'good shot.' Once a year, their photos are entered in the local fair with no special designation. Some have won honorable mention ribbons. The local convention center has a display of their work. Using a strength with visual skills and a unique perspective on the world, there has been a noticeable growth in their abilities since the club was formed. Many take their cameras with them on vacation or around town and are using their cameras independently, just like anyone else.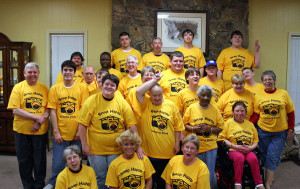 Recognizing some true artistic ability by some of our members and love of creating by others, we next formed the Art Hearts Art club in 2009. Volunteer art instructors teach a variety of skills from watercolor, acrylic, collage, to working in clay. Membership is limited to fifteen, so each member will have the time, attention and space to work. Many parents/caregivers stay to lend a hand with passing out materials or extra help with the project. Without exception, art instructors want to sign up again to teach a class. They will often remark about the genuine nature of our adults, the joy they show in their work and the appreciation they show towards the instructor. Many of the projects become gifts for someone they care about. Adults with developmental disabilities often don't have the money or opportunity to purchase gifts for family and friends. What a boost in esteem and feeling of independence it must be to give such a gift.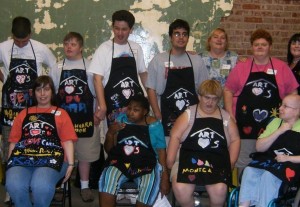 The 1 Step @ A Time dance club was started when someone saw the need and volunteered to be the leader. Music is universal and everyone can move to music in some way. Dance club meets once a month and membership have grown to 45-50 at each meeting. Admission is charged to help with the expenses of the recreation authority. Drinks and snacks are also sold at a nominal charge. The purpose is not to make money but to be self-supporting. It also provides a more real-world experience where not everything is free. Everyone is encouraged to handle their own money and to make their own snack choices. Several members are on diets and are choosing water or a diet drink instead of a Coke and choosing pretzels instead of a candy bar or chips. Members help with manning the snack bar and learning to work quickly to serve everyone.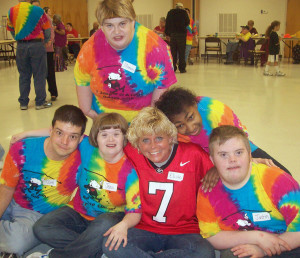 Music for dance club was originally provided by a DJ who volunteered his time. When he could no longer help, one of our members was able to step right in. He had been watching and helping all along and had gained the confidence to do it by himself!!! Shawn listens to the other dance club members' suggestions for music and prepares his playlist. During the dance, he supplies a lively commentary and makes announcements about birthdays and other news.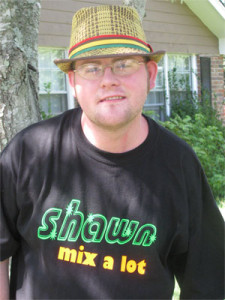 With what has been accomplished so far, DIGS has made a tremendous change in the lives of adults with developmental disabilities. Not only are there fun activities to talk about and look forward to, but true friendships have been formed. Other activities are planned by our adults such as going out to eat, shopping or to a movie. One mother of a young man turning 21 said through her tears that this was the first birthday party she had planned where people actually came. One young lady remarked that everyone she had invited came to her party, except for four and they had other commitments.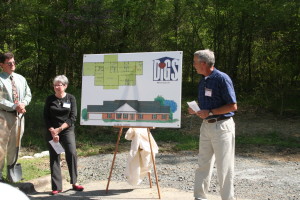 The goal of deinstitutionalizing adults and moving toward the housing model of the personal care home is to provide a less restrictive environment for our adults with disabilities. But placing them within the community does not guarantee automatic acceptance and inclusion. DIGS received a donation of land behind and beside two established neighborhoods. To celebrate and kick off a capital fund drive, a groundbreaking was planned at the property. We were met with angry phone calls, emails, a petition and signs of the protest posted around the neighborhoods. Fears of lowered property values, vandalism and our residents left to wander their streets and harming their children were expressed. This has happened many times in our area and most likely other places around the country. Although dampened, it did not take away our joy of achieving this step toward our first home!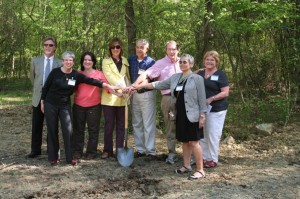 We considered what could be done to help calm the fears and educate people about our adults and found that just maybe we were already doing what we could and should be doing. The DIGS leisure opportunities appear to be providing a unique transition for both our adults and the community at large. With these activities, our adults learn skills that other adults enjoy. DIGS gives them the support and acceptance to learn and practice those skills along with guidance for appropriate behavior and any other associated social skills. Through these examples, the community is given the opportunity to meet our adults and to see them as people participating in a club….as people who are genuine and fun to be with…..as people who are not to be pitied or done for….but as people first, who just want to be accepted for who they are. Isn't that what every one of us wants?
As the journey continues…